April is Rosacea Awareness Month. Many people don't understand rosacea, which is frequently confused with sensitive skin. According to Shannon Esau of Rhonda Allison, "Rosacea is a chronic and progressive disorder that impacts 16 million Americans. Rosacea will typically present as redness on the cheeks, nose, chin or forehead that will come and go. It is a complex condition, with three stages of progressed symptoms."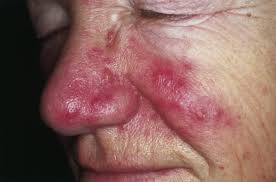 Mild rosacea causes some redness or flushing that is exacerbated by certain topical products, improper skin care, some foods, alcohol, drugs, or other triggers. According to the Mayo Clinic, more progressed stages of rosacea can lead to bumps that look like acne, a thickening of the skin on the nose leading to a bulbous appearance, and eye issues. Rosacea is not caused by poor hygiene. It may be hereditary, but people with fair skin with sun damage, people who drink or smoke may be more at risk.
Things to avoid
Rosacea symptoms may be lessened by avoiding triggers. This can include using a sunscreen daily (which you should do anyway), reducing sugar, and stopping smoking. Studies show that alcohol consumption may cause rosacea or worsen symptoms for some people, though it is important to note someone who never drinks can also develop rosacea.
People with rosacea should also avoid "scrubbing" their skin or using manual exfoliation (gritty) products. These can cause irritation which may worsen symptoms. A product like Rhonda Allison's Mandelic Arginine serum can gently rejuvenate skin without an aggressive scrub.
Managing Symptoms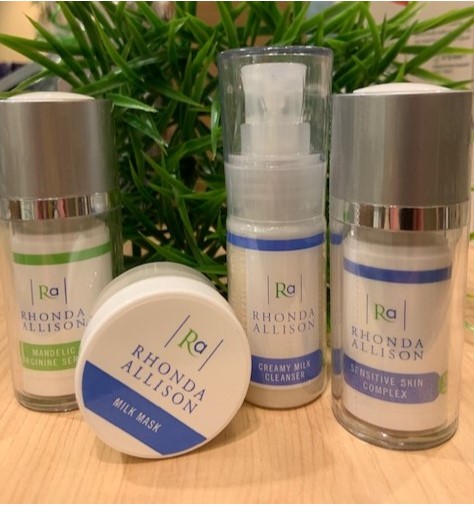 In addition to avoiding triggers that can worsen symptoms, proper skincare is essential to treating rosacea. For more severe symptoms, people may wish to seek assistance from a dermatologist.
At East Village Spa, we offer Rhonda Allison professional skincare which has several options to help ease rosacea symptoms.
Sensitive Skin Complex: This serum supports inflamed, irritated, infection-prone skin while providing a high degree of environmental protection. This product also eases facial redness and burning.
Creamy Milk Cleanser: Formulated for sensitive and traumatized skin, gentle with milk proteins to soothe and hydrate.
C-Stem Cell: This complex strengthens skin and protects against environmental stress.
Milk Mask: A cooling, calming, and hydrating mask
Wasabi Mask: It may be surprising that wasabi would be an appropriate ingredient for sensitive skin and rosacea, but this mask purifies and hydrates acne and rosacea-prone skin.
If you have concerns about your skin, you can visit with a licensed esthetician for more guidance, regular facials and proper home care can make a world of difference in your skin health. To book a facial with one of our licensed estheticians, click here.
Resources
Differentiating Rosacea From Sensitive Skin, Shannon Esau, Rhonda Allison Cosmeceuticals. Available at Skininc.com
Mayo Clinic: Rosacea https://www.mayoclinic.org/diseases-conditions/rosacea/symptoms-causes/syc-20353815
American Academy of Dermatology: Does Drinking Cause Rosacea?
https://www.aad.org/public/diseases/acne-and-rosacea/rosacea/does-drinking-cause-rosacea
American Academy of Dermatology: 6 rosacea skincare tips dermatologists give their patients:
https://www.aad.org/public/diseases/acne-and-rosacea/rosacea/6-rosacea-skin-care-tips-dermatologists-give-their-patients