Updated 8/5/2020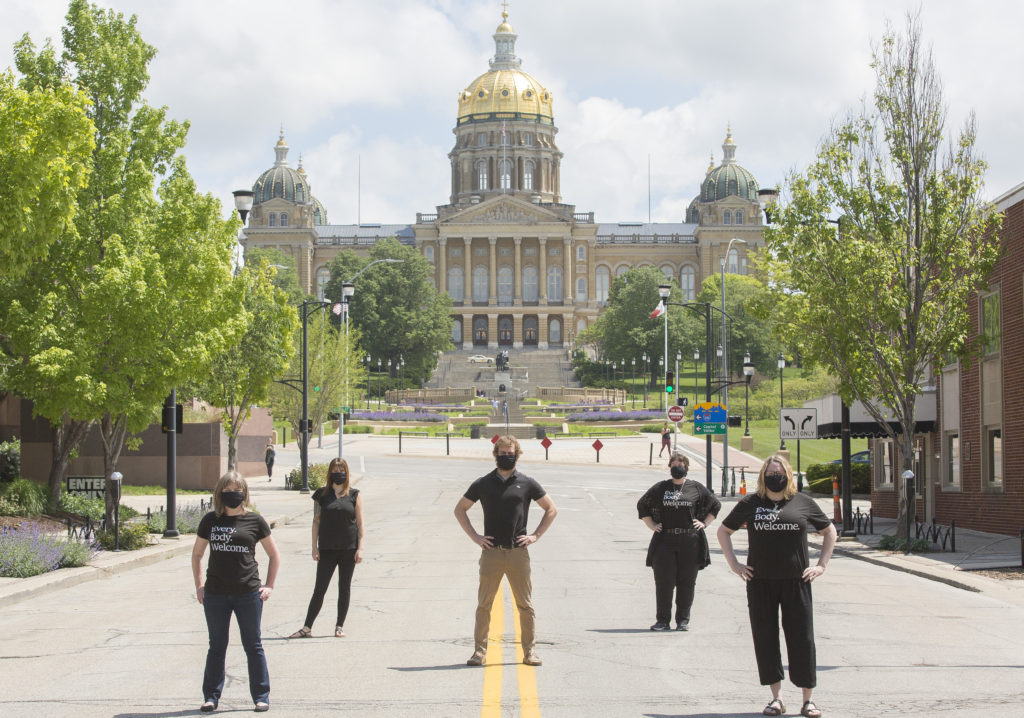 We're so excited to welcome our guests back in a limited capacity. In order to operate during a pandemic, we had to make changes. We thank you in advance for your patience with us as we figure everything out in our first weeks back. Our guests are our partners in risk management. Some of these are state requirements, some are due to professional best practices and CDC guidelines. If you don't feel you can adhere to these policies, we understand that you might choose to wait to schedule with our spa until a later date.
1. Guests must wait in their cars until we call or text to let you know your provider is ready.
This is fairly standard for salons and spas right now, it enables us to adhere to our capacity limitations for social distancing and helps your provider have the time they need between services. Please be ready on time. As we are still learning our new systems, we promise, you will still get your full service time if you arrive on time, even if we're not able to bring you in a few minutes before like you're used to!
We can't wait until we're able to relax this because one of our favorite things is chatting with our guests at the desk.
2. All guests and providers must wear a mask throughout the duration of your visit.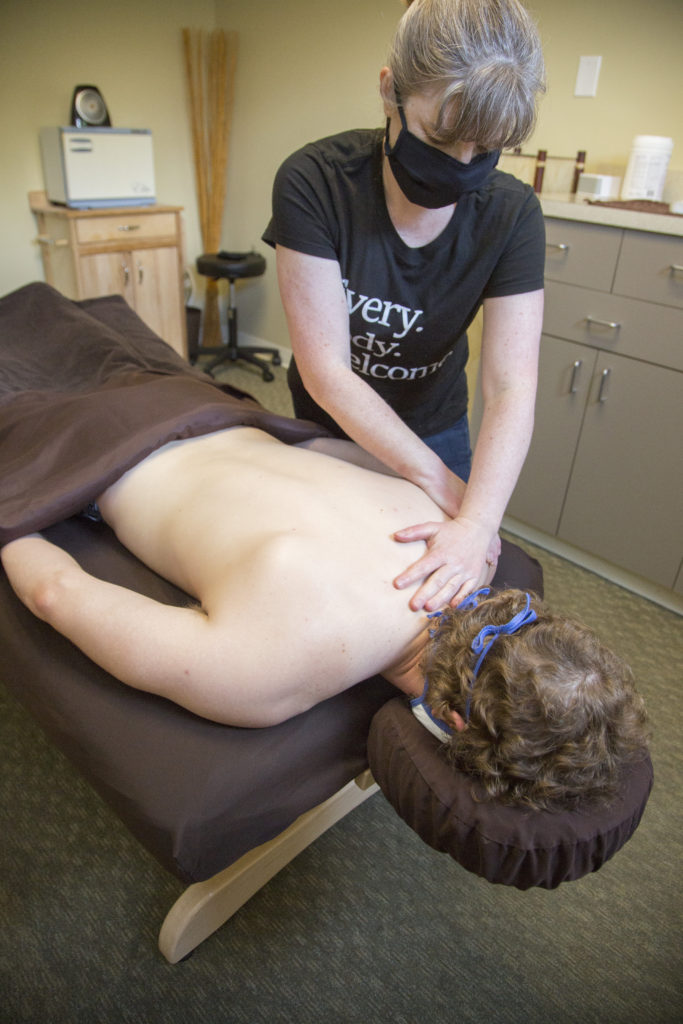 If you don't have a mask, let us know before you come up and our receptionist will have one waiting for you on a table outside the spa. We are temporarily unable to provide facials, lip, chin, and nose waxing because of this requirement. We've all had massages in our face masks when training to reopen, it isn't bad! If you think you'll be uncomfortable laying face down, book the side-lying massage instead.
Masks protect those around you which is why both providers and guests need to wear them for them to be effective. Because of the amount of time droplets linger in the air and the high percentage of asymptomatic people, we can't waiver on this policy as it isn't fair to our providers or the guests in the room after you. Even if you feel fine, many people are PRE-symptomatic and highly contagious for several days before they know they're sick.
The only exception: if you're receiving a facial or lip/chin wax you can remove your mask as needed in the treatment room and replace your mask when your service is over. Consider bringing a clean mask to put on after services.
3. We require a credit card or gift card on file to charge at the completion of your service to minimize contact at the desk.
You're welcome to add a gratuity to a credit or gift card. We do accept cash as well, but as always, need a card or gift card to hold your spot. A contactless check-out is preferred and it is also a bit quicker to allow us to reduce the number of guests in our lobby so we can adhere to physical distancing guildlines and local gathering rules.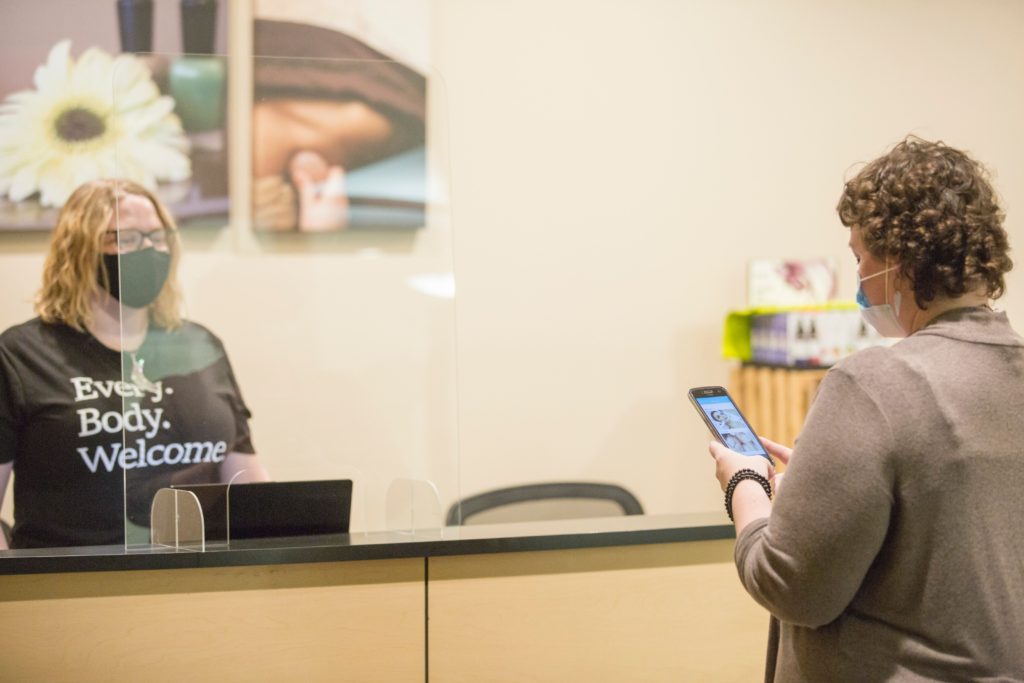 4. We cannot permit guests to bring others to their services
If you are accompanying a guest who requires assistance to get on or off the table or who is a minor, please let us know in advance so we can make adjustments, otherwise only guests are permitted in the spa when we reopen so we can adhere to our temporary occupancy limitations.
5. Please use the provided hand sanitizer before entering.
We'll be asking you to wash your hands or use sanitizer frequently during your visit. All of our service providers will be doing the same. We always have! But we'll make sure you see us now.
6. If you have any potential symptoms of COVID19 or believe you were recently exposed, or have engaged in a high-risk activity we need you to cancel or wait to schedule.
This not only keeps our employees and guests safer, it helps prevent another closure of our spa. We are temporarily waiving cancellation fees for illness or COVID19 exposure-related cancellations as long as you let us know. A lengthy and costly closure of a service business would be especially devastating if it could have been prevented by a cancellation. We promise, we will be closely monitoring our employee health status and risks as well and we will cancel in a heartbeat if we worry they could have COVID19.
If you've recently flown or have attended an indoor event or visited a crowded indoor space, please consider waiting to schedule for two weeks. We ask this courtesy as a consideration for the health of your provider and the survival of our business.
7. We must temporarily require all guests to sign a COVID19 treatment and release form in the 24 hour period prior to every appointment.
This is a must and is pretty standard practice for any responsible personal service business now. We prefer you to do this form via a link we'll e-mail to you prior to your session. We cannot provide your service without this form.
8. Please understand that our schedules will be changing
Our schedule is (hopefully) going to be quickly changing based on the local COVID19 situation and employee illnesses or potential exposure. Whether that means more temporary closures or the ability to add additional employees we aren't sure when and how this will impact our future bookings. School schedules, and daycare availability will also impact our bookings. We thank you for understanding as we do our best to navigate these changes as best as we can.
We missed you, but we understand if you aren't ready to return!
While we've been very deliberate in our safety and risk management plan, no personal service received in a pandemic is going to be risk free. By booking and receiving a service with our spa, our guests acknowledge and accept this risk. If you aren't ready or able to return, we completely understand. If we can support you virtually or through our web store, please let us know! Please, take the time you need. Don't feel pressured because you have a gift card or 2020 voucher, we'll extend the date.
Feel free to e-mail us with questions at [email protected], we are happy to explain any policies or precautions we're taking. See our temporary limited menu here.