CND Shellac, the original gel-polish hybrid, turns 5 years old this month and we have been using Shellac since it debuted at a show in Las Vegas.  In fact, when we learned about this revolutionary new product, I bought a plane ticket to Vegas so I could be among the first to purchase it and bring it back to Iowa!  Our nail technician and esthetician Cassandra recently took an advanced CND Shellac course where she learned new techniques, tips, and tricks and learned about the soon-to-debut new top coat and lamp.  The new CND Shellac Top Coat will be available soon and will make removal even faster and gentler!
Cassandra also learned 5 interesting CND Shellac Facts, we'll share one for each year we've been able to enjoy Shellac:
5: Every CND Shellac Color is individually formulated to create the best color, which explains why some are thicker or thinner, and some hold foils better than others.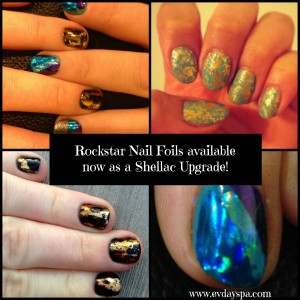 4: CND's new LED lamp has been in development for THREE YEARS!
3: Swimming, dishes, or other hobbies or chores that submerge hands in water aren't great for Shellac, but Cassandra learned that prolonged exposure to heat from a hair dryer or hot laundry can also cause Shellac to lift.  (but if you don't pick at it, the polish edges should go back to where they belong in time!)
2: On average, fingernails grow just 3 mm/month. In our experience, keeping a hard gel polish like Shellac on, can help keep you from biting or breaking your nails!
1: While it started with just 12 shades, currently CND Shellac comes in 83 shades (As of right now!)