By now I'm sure you've seen or read about those circle-like marks on the Olympic swimmers and gymnasts.  They are caused by a treatment called "Cupping" that is an effective way to ease muscle tension, boost circulation, and reduce fascial adhesions. Cupping can be done in a variety of ways from a manually pumping vacuum cups, by heating glass jars (fire cupping), and with silicone cups that we use at East Village Spa.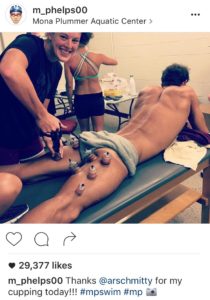 At East Village Spa, many of our licensed massage therapists are trained to use silicone cups in a session.  This addition to your therapy is especially beneficial in helping to break up muscle or fascia adhesions, scar tissue, and increase circulation to an area. Cupping is great for lymphatic drainage and helping treat areas that are difficult to stretch, like the IT Band.  Instead of pushing into the tissue, the cups lift the tissue.
Cupping does not always lead to the circular marks everyone is talking about at the Olympics.  These are caused when cups are left in one place for a long period of time. In the cupping sessions we do at East Village Spa, we typically leave cups a shorter period of time in one spot, or are moving them over an area to help lift the tissue.  This therapy is combined with hands-on modalities like deep tissue, myofascial, or trigger point release.
Check out this video of our massage therapist Tisha demonstrating cupping on Molly:
If you are interested in booking a massage session that includes cupping therapy along with traditional massage, call (515) 309-2904 and ask to schedule a massage with one of our therapists with experience in cupping.