At East Village Spa, we LOVE the Small Business Saturday movement. We will be participating on Saturday, November 26th with free adorable tote bags for the first 10 people to purchase retail items in our shop in November 26th.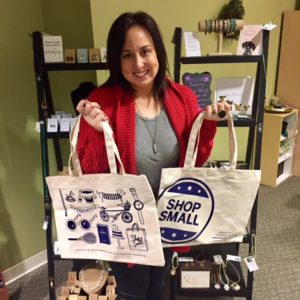 Not sure what to get? Our team members shared some ideas of their favorite spa retail gift ideas AND some small businesses you need to check out.
Cassandra: From East Village Spa I recommend anything Farmhouse Fresh! A lotion and body wash or shea butter soap are a great gift.  Two other stores I recommend are Wanderlust and Jett and Monkey's Dog Shoppe.
Casey: In addition to gifts at our spa, our receptionist Casey suggests you visit Look @ You in the East Village because the owner, Amber, rocks and their jewelry assortment is amazing. It truly is a hidden gem!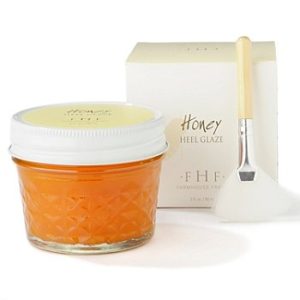 Dawn: I'm love getting all of my sons' teachers Farmhouse Fresh Shea Butter Hand Creams because everyone has such dry skin this time of year and they smell amazing! I also like grabbing a few items at Raygun and Hill Vintage and Knit. One of my favorite local fiber artists, Girl With a Sword, sells her yarn there!
Tisha and Camille: Farmhouse Fresh Honey Glaze!
Cori: I love the honey heel glaze; it smells like Christmas!  And anything lavender scented. It's great for relaxation; something you'll really need for the holidays.
Molly: The Farmhouse Fresh gift sets – I like the Whoopie Cream set because it comes with the lotion, body wash and candle. And for local Christmas shopping I also recommend visiting Domestica or Preservation!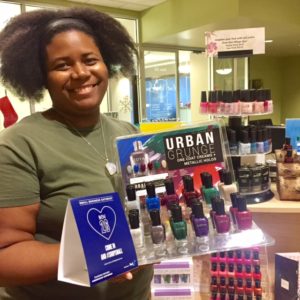 Tiffany and Cyerra: Nail polishes make great gifts
Cammie: Kneipp bath salts. My favorites are Arnica Joint and Muscle and Sweet Dreams. Both are needed around the holidays.  I absolutely encourage anyone I can to go to the Market Day Black Friday sale at Capital Square. Tons of hand crafted small businesses with high quality items. You can buy coffee there while you shop, and usually a few other edible treats. Easy to find something unique and fitting for each person on your list.
Let us help you pick out a perfect gift!  In addition to our great retail items, we have our annual holiday gift card promotion. Now through Christmas Eve stop into the spa and receive a FREE voucher for $20 toward regularly priced weekday services in 2017 with every $100 in gift cards purchased. (Not available with online orders).
Learn more at www.EVDaySpa.com