Don't get me wrong, we LOVE CND's Shellac nail polish (the Original Gel-Hybrid Power Polish), but we don't guarantee it to be chip-free in every situation.
Problem 1. You've spent a lot of time in water.  (The inspiration for this post was my weekend trip to swim in Wisconsin's gorgeous, but skin-drying lakes…between the water and piles of alcohol-based hand sanitizer, my Shellac chipped on one very dry nail).
Water will cause your nail plate to expand and contract which gives more opportunities for the polish to lift.  Spending time in chlorine-y pools, ocean water (yay, vacation!) or soapy water (lots of hand-washing) can also really dry out nails and polish leading to chipping and lifting and there isn't much your nail tech can do about that.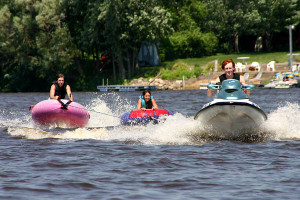 Solution: Keep CND solar oil handy and apply regularly.  I know, it isn't fun to think about cuticle oil on vacation, and it is a pain to think about re-applying it regularly if you have a job that requires frequent hand washing, but it is really the best way to try to keep all that time in water from causing your Shellac to chip or pop off.
Also,  using rubber gloves if you happen to have to be washing dishes or kids toys soapy water for an extended period of time helps!
Problem 2. Picking off your polish.  If you pick off your polish, it will cause nails to peel (delamination).  When your nail tech re-applies your Shellac, it is likely to peel because the nail underneath is peeling.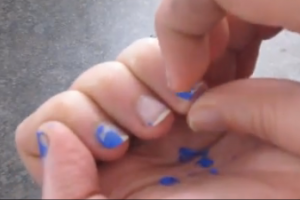 Solution: Keep a Shellac removal kit handy, we sell them, you'll get several  uses out of them, and knowing you have a removal kit at home can save you from mindlessly picking off your Shellac while waiting for your next appointment.
If the damage has already been done and you've got peeling nails, try a treatment like CND's Rescue RX for a week or two on "naked" nails before going back to Shellac to give your nail tech a healthier canvas to work with.  You can also just go to a polish like CND Vinylux which wears well (but not nearly as long as Shellac), removes easily (not a fun one to pick) and doesn't require the extra time or up-charge that Shellac does.
3. Using your nails as tools.  If you use your nails to scrape or peel at things, you are likely to experience chips at the tip of your nails, even with the best polish application.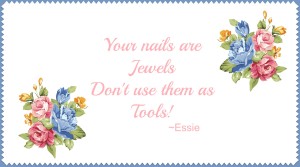 Solution: Knock it off!  ha ha, ok, I'm so guilty of this so I can't really talk, but if you use your nails to pick at labels or tear open boxes, keep goo gone and box cutters handy so you have fewer excuses.
4. You have super short nails: Shellac still is great for short nails (we have so many massage therapists on the team so our nail techs are used to working with our little nail nubbins) but they can't really "cap the free edge" of the nail as well as with nails that extend beyond your fingertip.  This is a polishing technique that helps Shellac stand up to wear, tear, and shrinking better.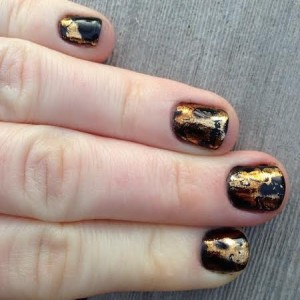 Solution:  If you are trying to grow your nails, Shellac can be a good tool because it is a harder polish so makes them less prone to breaking and less fun to nibble if you're a nail biter. Can't grow nails because of your job or lifestyle?  No worries, you are less likely to use your nails as tools (See #3) so you might still get some great wear out of your Shellac.  Plus because the polish is thicker than regular polish, you might get away with a bit more length than normal because it blunts the edge of your nail a bit.  You can also go with a more neutral color so it isn't obvious if it pulls from the tip a bit.
Need expert help?  Book a manicure with one of our awesome nail techs!  They are great at advising you on the best polish or treatment, helping your nails to look great at the length they are, or helping you to grow them if that's your goal!