Just typing this blog post makes me long for a soak in the tub with a good book and my favorite Kneipp bath liquids.  Baths are not only indulgent, but as any bathing aficionado knows, the health benefits can't be denied!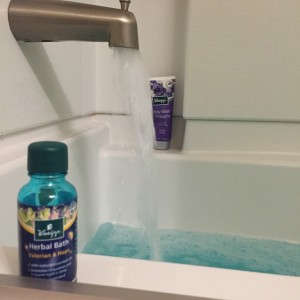 Relief of joint and muscle pain:
According to the Arthritis Foundation, a warm bath benefits people who have fibromyalgia, low back pain, and arthritis.  For added benefits, try using a muscle soak in your bath like Kneipp's Arnica Joint Relief or Juniper Muscle Ache bath soaks.
Bedtime benefits:
The Mayo Clinic suggests trying a bath at bedtime as part of your night time ritual.  For added benefit, we recommend trying the Kneipp Valerian and Hops Deep Sleep bath blend or the Lavender Bath blends.  Kneipp recommends scheduling bedtime 15-20 minutes after a soak in their deep sleep bath.
Flexibility benefits:
A warm bath is a great place to gently stretch or massage easy to reach muscles like your calves, quads, or in your feet.  Scheduling a massage or chiropractic adjustment, gentle yoga or stretching after a bath is great too because muscles are warmed up and loose.
Circulatory Boost:
For people with  poor circulation or to warm up in the winter, a warm bath will help arteries and veins to expand and increase blood flow.  I especially love (and need!) a bath after a winter run outside.
To enhance the circulatory benefits, add an aromatherapy bath with warming oils like Kneipp's Spruce and Pine bath.
Soften Skin:
While bathing in overly hot water or salts can dry out skin, a bath in a softening or hydrating oil can nurture and moisturize skin, especially hard-to-reach skin on the back.  A tablespoon of almond or jojoba oil added to the bath or some of Kneipp's skin soft almond bath will leave skin feeling great.
Bath Safety:
The arthritis foundation recommends soaking in warm (not hot) water between 92 and 100 degrees.  They caution that anything hotter can stress the cardiovascular system, particularly for people predisposed to heart problems.
Adding oil to the tub will make it slick so be careful getting out of the bath and use caution the next morning if you hop in the shower to make sure it isn't still slick!
Lastly, don't add essential oils directly to your bath without a carrier oil or salt!  There are many great soaking blends from companies like Kneipp that have proper instructions and dilutions, if you don't have ample aromatherapy training or background, stick with those.  Essential oils won't mix with water so if you put drops of them "neat" (right out of the bottle undiluted with oil or salt) in your tub, you may end up with a burn (possibly in a sensitive spot!) because the oil won't dissolve.  Trust me, I can attest to this.  Ouch!
What are your favorite bath rituals, products, or blends?