We know it can feel like we're inundated with paperwork and forms these days, so we really do empathize when our clients groan about having to fill out a health or skin care history. These forms were developed by our employees to help them get the information they need to give you an amazing service.  If you'd like a preview of our health history form, click here.   We keep all health information confidential and do not share it unless we have your written consent to do so.  Here are 5 of the main reasons we require a health history or skin care history before your service:
5. We need to know what products to use.  If you are booking a facial, our estheticians have many options for cleansers, toners, masks, scrubs, moisturizers, serums and more. The information on your skin care intake in addition to their assessment of your skin guides their choices.  If you are investing time and money in your facial, you deserve a wonderful service customized for you.  If you are scheduling a massage, we need to know if you have any allergies or sensitivities so we can select the best massage cream or oil.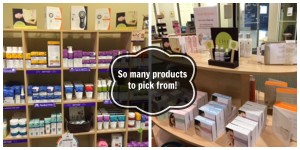 4. We might need to modify a service based on health concerns or preferences.  Certain medications require a change in pressure or technique due to a risk of bruising or tissue damage.  For example, some medications make skin more sensitive to waxing and can cause skin tears.  Some health conditions contradict exposure to heat so we might suggest changing your Hot Stone massage to a Sports or Signature service so as not to to exacerbate symptoms or cause burns. Some symptoms might seem harmless, but could indicate a serious problem like an infection or blood clot requiring medical attention.
3. We need to know which techniques to use.  There are literally hundreds of styles of massage therapy.  Many of our therapists have over 1000 hours of initial training and are required to take continuing education regularly, so our technique "tool boxes" are far bigger than what you can tell by looking at our brochure.  Letting your therapist know injuries you have, areas of pain, and pressure preferences will make a world of difference in the effectiveness of your service.  Just because you had a light and relaxing massage with a therapist once, doesn't mean he or she isn't able to give a good injury-specific focused treatment another visit or visa versa.  You just have to let us know exactly what you need so we can raid our massage "tool box" for the best techniques to for you.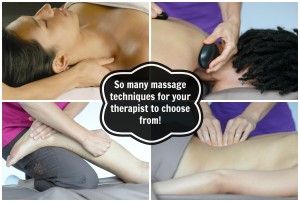 2. Some of your answers clue us in to ways we can go above and beyond for you!  Have allergies or a headache? We can add a cold compress to your face rest to help relieve the pressure.  Work long hours standing on a cement floor? We an add a cooling mint foot cream instead of the regular massage cream.  Under an incredible amount of stress and struggling to calm your mind before your massage? Your therapist can add a couple of drops of lavender oil into your massage cream and have you do some breathing exercises. We can even re-position to an incline or side-lying position for recent abdominal surgeries or breast tenderness. The possibilities are endless, but we can't help you if we don't know what you need our help with!
1. Your current concerns may be caused by issues you wouldn't have suspected.  A thorough intake could lead to underlying causes of current issues you may not have thought of.  An old surgery or injury may be contributing to current pain in a completely different area of the body.  Your current skincare regimen could have unintended side-effects you didn't know about that could be causing dry patches or clogged pores.  Your favorite hobbies may be taking a toll on your body over time. All of this information will help us to provide the best results possible for a better treatment value.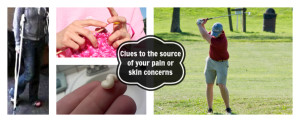 If we don't have the information we need,  your service provider will need to take time out of your treatment to ask questions and you won't be able to relax as fully.  If you come a few minutes early to complete your form, it will give you a time to decompress and shake off the day, relax with some hot tea or water, and focus on your treatment goals so you can be sure you are getting the best value for your time spent at the spa and a the best service and recommendations from your expert provider.