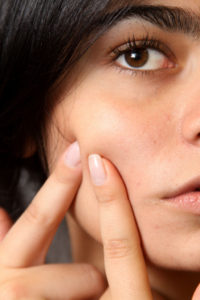 Let's say you are experiencing some skin break outs. Your first instinct might be to try the drugstore products you used in high school when you had teen acne, or to buy a full line of products at a home-party that is specifically labeled for acne. The problem with this approach is that breakouts, like many skin concerns, can't be treated with a "one size fits all" approach. Without knowing the cause (stress, diet, hormones, bacteria, medications, etc…), breakouts are hard to treat and prevent.  A licensed esthetician can help you get to the root of the problem, whether acne, hyperpigmentation, dry skin, etc… to address it with a customized approach.
Licensed estheticians are professional skin care experts.  In Iowa, an esthetician is required to have a minimum of 600 hours of training in skin health, anatomy and physiology, chemistry, ingredients, and hands-on treatment techniques before they can sit for a licensing exam that allows them to provide facials, skin education, waxing, and powerful "professional only" treatments like chemical peels.  Once licensed, they must continue their education regularly.
With an abundance of professional skincare lines and more advanced ingredients at their disposal, Estheticians have the ability to mix and match products to provide the most customized treatments for ideal results. Many estheticians invest much time and training to select the best professional line for their clients, paying close attention to ingredients, effectiveness, ease-of-use, cost, and complementary services like chemical peels to help maximize benefits.
A few of the benefits customers might expect with a professional use line:
Greater ability to customize products for desired results.
May need LESS product due to higher level of active ingredients
More pure ingredients for more potent results
Similar price points to mass-marketed or direct sales lines due to less money spent advertising to mass-markets. The savings are passed on to you!
Advice from a professional who has had extensive training in product chemistry
The ability to combine home care with professional treatments like facials or peels for more intensive results
At East Village Spa, another benefit of using a professional skin care line is a professional BEHIND the line.  Not only will you have access to our estheticians for advice via e-mail, phone, or in-person, but our estheticians have direct access to those who formulate their products and thousands of their licensed peers for advice on particularly difficult skin care situations.  We have even been able to submit (with client permission!) skin histories and photos to product educators to "crowd source" a perfect solution for unique cases from advanced professionals.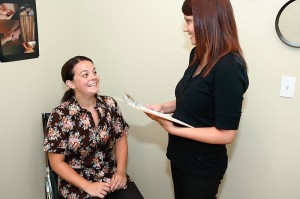 Too good to be true?
We'll be honest: Professional skincare takes work.  Your skin won't likely become perfect overnight and your skin's needs are always changing, but your esthetician will help guide you as your needs change, from pregnancies, life stress, new medications, seasonal changes and aging.  Like exercise, you have to stick with it and be diligent to create change.  You can't go to the gym once and expect to your biceps to swell overnight!
Ready to learn more? 
Set up an appointment for a facial with any of our licensed estheticians who are happy to help you learn more about professional skin care and offer you a service that is not only super relaxing, but really informative.  Click here to schedule or e-mail EVSpaDesk@gmail.com if you aren't sure which facial is right for you.