Becky White is a full time licensed massage therapist at East Village Spa. She comes from a lifelong background in dance including dance instruction, so she can empathize with people who are hard on their bodies, and she can choreograph very flowing massages.
Where and when did you get your professional training?
I graduated from the Aveda Institute and got my massage therapy license in 2017. I have a BA in graphic design and minor in psychology from Grandview.
Which techniques or treatment styles do you feel most comfortable with?
Focus work, general relaxation massage, stretching
Why did you choose this field?
I like being able to connect with others on a deeper, unconditionally loving and healing level. I like to be able to give of myself in a way not many other jobs allow you to.
Describe your treatment style in 3 words:
Revitalizing, Rhythmic, and Relaxing
What is your favorite East Village Spa service to give?
The 80 minute Heavenly Hot Stone Massage
What is your favorite East Village Spa service to receive?
The 80 minute EV Signature Massage
What is your favorite retail product that we carry?
The EuroSpa Shower Mist
What are some hobbies or fun facts about you?
Dancing, tumbling, fishing, traveling (especially in Europe!), and cycling.
Why should guests book with you?
My intuitive nature helps me connect with guests easily and really understand what they want to get out of a session. My intent and touch is unique and I can help individuals reach a higher level of well-being.
What are guests saying about Becky?
"Becky was completely attentive and professional. She knew when to ask for my preference and how to recommend what was best for my skin and muscles."
"She was extremely detailed during the massage (massaging my ankle bones with the stones and the little spot between your thumb and pointer finger). I loved her hand and foot massage. My favorite thing ever was her scalp and facial massage."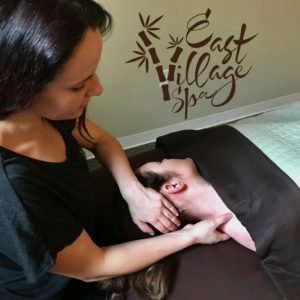 To schedule a massage with Becky, call (515) 309-2904 or check her availability and book online here. If you wish to indicate a specific request for Becky as your massage therapist, please select "Specific Therapist" and her name from the drop down menu.