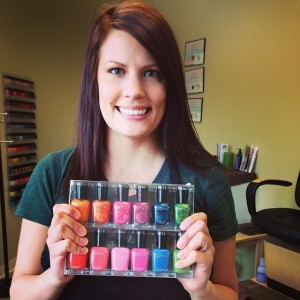 Camille Arbegast has been a valuable member of our team since she joined us as to provide nail and skin care services in February 2012.  Camille is one of the most dedicated professionals I've met, she is passionate about her craft, so much so that she has recently started teaching waxing to esthetics students!  Camille is our managing technician and sees to it that the massage therapists, nail technicians, and estheticians have what they need to do great work!
What licenses do you have and how long have you been in the industry?
I have dual licenses in Esthetics and Cosmetology and have been working in this field for 4.5 years.
What is your favorite service to give?
I love the variety that my days have, but I really take pride in my skilled (and fast!) waxing. I always do my best to ensure my client's comfort. I also love to help relax my clients with my facials.
What is your favorite spa retail product?
It's a tie between Derma E's Microdermabrasion Scrub for exfoliation and Farmhouse Fresh's Honey Heel Glaze for hydration. I can't live without either of them.
What are your favorite ways to reduce stress?
Cuddling with my dogs is seriously the best therapy ever. They're always so happy to see me!
What are your favorite tips for clients?
Sometimes you don't realize how much you needed some relaxation until you get it. Don't forget to take care of yourself.
Do you have any special talents people might not know about?
I was first chair clarinet all throughout high school, and I play the piano as a form of therapy. It helps take my mind off of anything else.
Why should clients visit YOU?
I strive to make sure my clients leave the spa wanting to come back and see me again as soon as they can. Let me help ease your mind and body!