People always want to know which massage is the best.  It is a great question and not always the easiest to answer until we get to know someone a bit, but I hope this post helps you to sort through our four most popular massage styles to find one that suits you best!
THE EV SIGNATURE MASSAGE: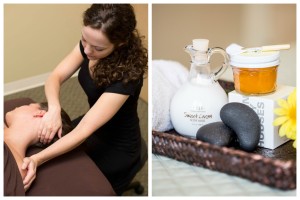 This is our most popular massage for a reason: It is easy to customize for many preferences.  Our Signature Massage is usually full body, but can include more focused work on a specific area of tension.  Your massage therapist can vary your pressure from light to firm throughout the session based on your needs and preferences.  He or she will also incorporate a few warm stones on the back and feet (not to be mistaken with a hot stone massage, the stones are used for only about 5-10% of the treatment time in the Signature massage).
Your therapist will often blend some essential oils into your massage cream based on your health intake and he or she will also use a warm honey mask on your back with hot towels to soften skin (and the towels feel amazing).
If this massage was a vacation it would be: A trip to Colorado to take in some nature, great food, light hiking, and a visit with an old friend.
If this massage was a flavor of ice cream it would be: Neapolitan or cookies and cream
THE ATHLETIC EDGE MASSAGE: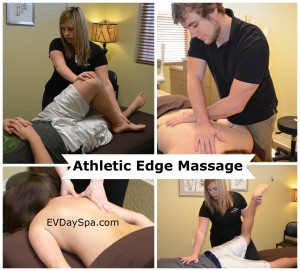 All of the therapists who offer the Athletic Edge massage at our spa have extensive training in deep tissue techniques or sports massage, myofascial release, trigger point therapy, and/or assisted stretching.  You don't have to be an athlete to benefit from this service, it is for anyone with a busy lifestyle, injury, or chronic aches and pains.
Don't book the Athletic Edge massage if you want to drift off to sleep, but when you want to feel like you and your therapist really accomplished something.  This massage is generally not full body, but is focused on a few areas of pain or injury.   Your therapist will incorporate a variety of techniques and possibly even stretches, products to warm or cool muscles to reduce inflammation, and might ask you to participate by engaging muscles or assisting with a stretch.
If this massage was a vacation it would be: RAGBRAI, a ski trip, or a week off work spent remodeling your kitchen.
If this massage was a flavor of ice cream it would be: A frozen fruit and protein smoothie or rocky road
TWO FEET DEEP BAREFOOT BARS MASSAGE: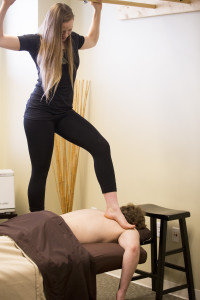 If you love firm pressure, but still want a full body massage that lets your mind drift away, this is a good choice.  Your massage therapist will stand on the table and use bars overhead for balance as she massages you with her feet.  Unlike a traditional deep pressure massage that uses hard surfaces like the therapist's elbows or knuckles, the feet are softer and spread pressure evenly over a broader surface.  Your therapist isn't "Walking" on your back, but rather using her feet to provide a massage that includes flowing and targeted strokes. This is a great choice for people with a more dense musculature or people who like to feel like the pressure is firm, but don't like to feel sore the next day.
If this massage was a vacation it would be: A trip to Thailand or Bali
If this massage was a flavor of ice cream it would be: Dark chocolate chili pepper or Cherry Garcia
HEAVENLY HOT STONE MASSAGE: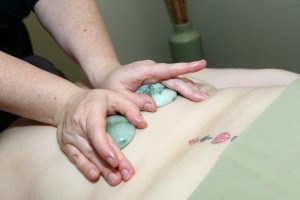 We call this massage "Heavenly" for a reason.  This is our most relaxing massage.  Your therapist uses warm jade stones of different shapes and sizes to provide a massage that is extremely relaxing and boosts circulation.  He or she will use a combination of long, flowing strokes and quicker, focused techniques with the stones to increase blood flow while warming and relaxing the muscles.  While this treatment doesn't use heavy pressure, the heat of the stones works deep to relax the muscles for the muscles.
If this massage was a vacation it would be: Relaxing on a beautiful beach with a cocktail and a great book.
If this massage was an ice cream flavor it would be: Mango sorbet or a hot fudge sundae with a toasted marshmallow
Ready to schedule your massage? Click here to book online at East Village Spa!