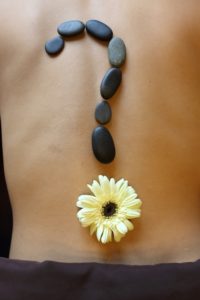 A question we're frequently asked is: How often should I get a (insert your favorite spa service here)? As far as how often you should get spa services, it depends on the service and why you are receiving it.
HOW OFTEN SHOULD I GET A FACIAL?

For general relaxation and routine skin wellness: typically a monthly facial will suffice, though we understand sometimes you have to stretch it out to every other month or quarterly. As long as you are using the products your esthetician recommends in between visits you should be fine. At a minimum, each season it is good to get checked out in case you need to change your routine due to changes in the weather and your activities.
For peels or Minus 10 protocols: you may need to visit in shorter intervals (perhaps 2-3 weeks) based on the treatment goal and where in your skin cell turnover cycle your esthetician wants you to repeat the service.
For acne facials like our "Clear Relief" facial: a monthly facial to assess skin, perform extractions, and do a deeper cleanse along with recommended home care between visits is necessary until the acne clears up.
For Hydrafacial: Monthly is a great starting point, but if you your esthetician may suggest a period of more frequent visits to address certain concerns.
HOW OFTEN SHOULD I GET A MASSAGE?

You can typically get massage therapy as often as you'd like, but any of us who have spent a day getting massage in school or testing massage students or job applicants can attest that there IS such a thing as too much massage! Your body will let you know when you've had enough! A few good suggestions for spacing your services:
General stress management and relaxation massages: These are fine in whatever interval you can manage with your schedule. We have clients in weekly (sometimes twice weekly), lots of every other week and monthly massage clients, as well as some who are able to treat themselves on special occasions like birthdays and anniversaries.
Sports massage: If you're training for an event, regular massage at weekly or every-other week intervals are helpful to prevent injury and keep you on your training schedule. The type of massage your therapist recommends during training, shortly before an event (1-2 days) and shortly after an event will have different session goals, techniques, and duration.
Injury or specific focus work massages: The frequency will vary for these services based on what you and your therapist are addressing. It is possible to overwork an area and for most kinds of massage, we don't want to further inflame an area so your therapist will suggest rest periods between massage. Typically we'd ask a client to come more frequently at the beginning of treatment for a specific issue until it has subsided (2 sessions in a week is not uncommon at this stage), then maintenance massages. Your therapist will gauge frequency based on how long the benefits of the treatment seem to last. Sometimes even a quick 30 minute treatment here or there can help maintain progress.
If you are seeing multiple providers to treat the same condition: We often partner with chiropractors and physical therapists for greater treatment effectiveness. Do make sure your massage therapist knows all of the treatments you're receiving for the injury or health concern (i.e. physical therapy, chiropractic, acupuncture, etc…) and make sure your other providers know you're receiving massage so you don't over treat a condition and all providers are on the same page with scheduling service frequency.
HOW OFTEN DO I NEED TO WAX?
Wax intervals vary greatly depending on the person, hair texture, ethnicity, hormones, and heredity play a role in how often you'll need to book your follow-up waxes. It is important to grow hair to at least 1/4 inch before waxing to make sure the hair catches in the wax.
Facial waxing:Typically 3-4 weeks is common between waxing for brows, upper lip, and chin.
Brazilian/bikini, back and chest waxing: 4-6 weeks is a typical interval for Brazilian, back, and chest waxing.
Leg waxing: Leg hair needs a bit more time to grow in enough to wax, most people need to go 6-8 weeks once their hair is on a good growth schedule.
Are you ready for a rebook or looking to schedule your first service? Learn more and book online. Don't hesitate to give us a call with your questions at (515) 309-2904.