Dip nails aren't new, it is an old acrylic nail application system that has seen a resurgence in popularity in recent years. At our spa, we've seen a big uptick in clients coming in with dip nails, thinking they are the same as a gel polish manicure (think CND Shellac) or can remove like a regular polish. Unfortunately, not all salons that offer dip nails full explain that these are acrylic nail enhancements and don't remove the same as a CND Shellac gel manicure. We don't offer dip nails or dip nail removal, so we hope to clear up the confusion! Don't get us wrong, we're not opposed to dip nails (and some of our employees occasionally get dip nails), they just don't align with our mission of providing safe, natural nail care.
Why do people want dip nails?
Dip nails are popular for people wanting more of an enhancement look. They tend to look more "built up" on the nail. They're also billed by many salons as lasting 3-4 weeks. While the product does adhere very securely to the nail (more on that in the next section), you will still see nail outgrowth at the base after a couple of weeks like you would with any gel polish like Shellac. Some people who use Shellac can extend their wear past 2 weeks, but most choose not to because of the look of the outgrowth.
For people who want an acrylic nail, dip nails are a less fussy application system. Just be aware that there are more sanitary forms of application than double dipping into a shared jar of product, as so often seen in images of the dip technique. If your salon doesn't use individual powder applications, that's a red flag.
Why can't you remove my dip nails?
Some brands of dip nail products claim they can be soaked off with acetone, but we've found this is usually not the case, even after manual filing of the top layer. There are many brands. Often, the product is layered. To get the effects of nail art, additional gel polish coats may also be applied and layered on top. We have no idea what products were used and what the manufacturer's recommended removal is.
Many salons use e-files (the drill) to speed up the process. We won't use this because of the risk of damaging your nail and also because we don't want our guests, employees, and massage clients in the next room breathing in the acrylic dust. More than one client has told us to just rip the dip acrylic nails off because that's what their usual salon does. We definitely will NOT do that, and recommend that you don't either!
Will you ever offer dip nails?
No, acrylic nails and nail enhancements fall outside of East Village Spa's mission to provide safe, natural nail care. That said, we will not be offended if you've been a CND Shellac devotee but are dying to jump on the dip trend. This is a great story from the Today Show about a gel polish enthusiast who tried dip nails, and how the two services compared to each other.
If you want to try dip nails, we can refer you to another salon and I promise we won't be mad. Like I said, some of our employees have even tried dip nails so we get it, it can be fun to see what the fuss is about. We just ask that when it comes time to remove your dip nails, you visit a salon that offers this service so they can do so according to the manufacturer's instructions.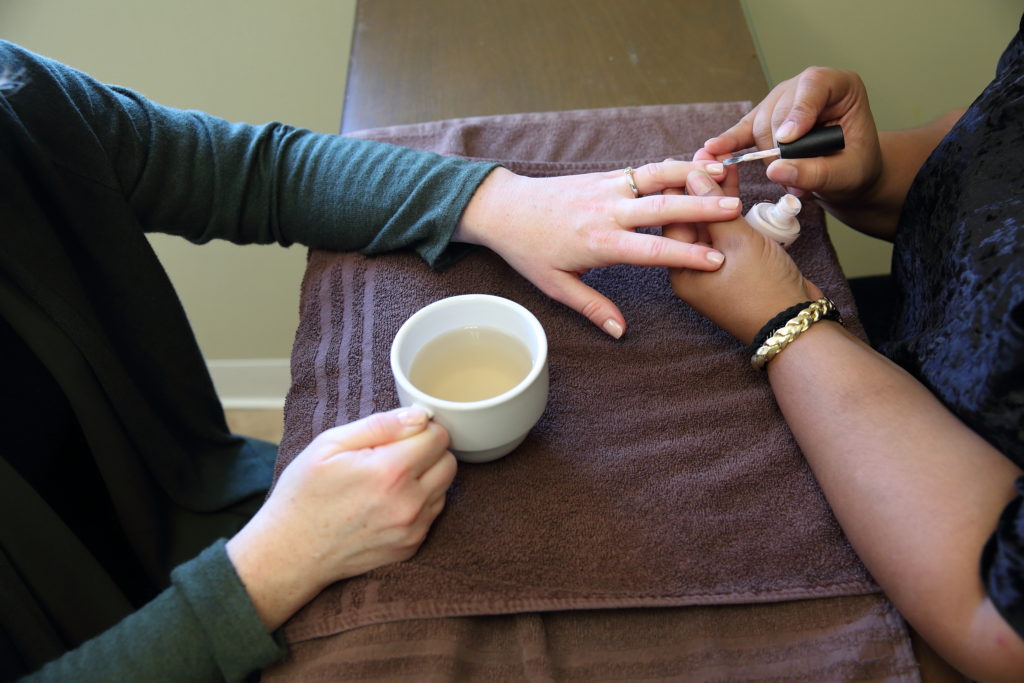 Cassie Sampson owns East Village Spa, offering skilled massage therapy, Rhonda Allison facials, Hydrafacial, and safe, natural nail care with CND Shellac, Vinylux, and Zoya polishes. Click here to learn more or schedule!