In the nearly 10 years I've been a massage therapist, it has been really fun to see the shift in attitudes about massage therapy.  It used to be viewed as more of a luxury, or something to do only for fun or a special occasion.  While massage therapy is still an awesome way to celebrate an anniversary or birthday, more people are using it as a regular part of their health and wellness routines.
Groups like the Touch Research Institute at the University of Miami have published great studies on the benefits of massage therapy.  The National Center for Complementary and Alternative Medicine is another great resource for good, solid FACTUAL information.
Findings from massage therapy research is well summarized on an article at MassageTherapy.com and highlights include the following benefits of massage:
alleviate low back pain
Shorten labor, reduce labor pains, and reduce hospital stays after delivery
Exercise and stretch weak, tight, atrophied muscles
Help people working to ease dependence on pain medications
Increase joint flexibility
Help after surgeries to reduce adhesions and swelling
Reduce scar tissue
Reduce anxiety and depression (there are great studies on the effects of massage on people undergoing cancer treatments and the effects of massage to reduce their anxiety about their diagnosis)
Reduce migraine pain and frequency
The Mayo Clinic lists other benefits including:
Help with digestive concerns
Help reduce insomnia related to stress (I can personally attest to this!  A hot stone massage does the trick for me!)
Reduce pain from TMJ
Help recover from sports injuries
MORE!
Really, the best way to see if massage can help you is to book one.  Not every kind of massage is beneficial for every condition.  For relaxation, circulation, and stress reduction, a Swedish or Hot Stone massage might be the ticket.  For recovery after a sprain or strain, a myofascial or sports massage is best.  If you're struggling with migraines, a cold stone massage, craniosacral massage, or other focused massage could help.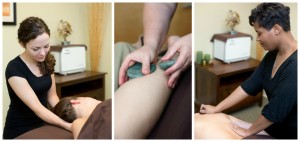 Also, because massage therapy can serve to help so many conditions, it is important to note that not every  massage therapist specializes in every type of massage or in work with every type of injury.  Our clients who are happiest and benefit most from their treatments have 2-3 therapists at the spa they see based on their needs.  They might see Tiffany during their pregnancies and Justin for sports therapy.  They might see Clair for deep tissue and stretching work, but Teresa for migraine help using Craniosacral techniques.  All of our therapists are very flexible in their treatments, but they also are very familiar with what their colleagues specialize in so are always happy to make a referral.  And NO!  You aren't cheating on your LMT if you try a different style of work!
We have a little quiz (not super scientific, more for fun and info) to help guide you in choosing the best spa massage for you to try for your first time, or you can call and ask Kelly at the front desk what she recommends based on your needs!