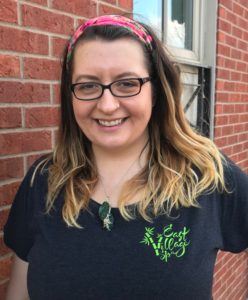 Brandi Munch, Licensed Massage Therapist, yoga instructor, and reiki practitioner joined our team in February, 2017. Brandi has a loyal following of clients seeking a peaceful, quiet relaxation service. She spent 10 years as a social worker prior to seeking a calmer field where she could truly make a difference in the lives of her clients.
How long have you been in the industry?
I completed my massage therapy education at Aveda in 2016 and have been working full time in the field ever since. I became a certified yoga instructor in 2017.
What are your specialties?
Relaxation-focused massage sessions and reiki. I also offer prenatal and hot stone massage.
Why did you go into the Massage Therapy field?
I've always been a helper and discovered my passion for health and wellness after pursuing my own journey to healing.
Describe your treatment style in 3 words:
Nurturing, restorative, peaceful
What is your favorite East Village Spa service to give?

I love the indulgent foot massages we offer because we incorporate yummy scented products!
What is your favorite East Village Spa service to receive?

I love all of them!
What is your favorite retail product?

Rapid Fire locally produced pain relief spray
What do you do in your free time?

I spend time with my old grumpy puggle, Sophie. We love to be outside exploring trails and parks.
Why should guests visit YOU?
I know how stress impacts our physical bodies and would love to help you relax so you can be your best self.
What are guests saying about Brandi?
"Brandi takes such good care of me. This is my regular "me time" spot! I feel so much better after going to her services."
"She is an excellent massage therapist. She knows the muscles and how to relieve stress and pain. She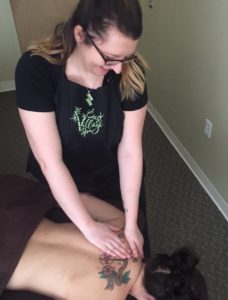 is nice and responsive."
"Friendly, professional and simply amazing. Explains everything she does so I understand the massage and the good it does for my mind and body."
If you would like to schedule a massage with Brandi, click here to book online and select the "specific therapist" option from the drop down menu before selecting her name.